Liz February 26th, 2017
As the water table throughout the Meola catchment drops due to increased hard surfaces like concrete and buildings, the flow and depth of Waititiko (Meola Creek) reduces and wildlife is threatened.
Good news: STEPS and AC people were thrilled to see a sizable tuna (eel) on 22 February at the corner by SLG Apartments and St Lukes Megacentre. This eel was following a rat who may have been attracted by bread often dropped at both Kerr-Taylor bridge and this corner of Roy Clements Treeway.
Sadly this week on Monday 20th Feb we found a dead 80 cm eel under the bridge in the Kerr Taylor reserve – see the picture below. This was reported to AC Pollution Control (incident I2017-945) and was removed. Today there are 2 dead ducks in the same location which we have also reported. Others reported more ducks in February, and our information is that this has been an especially bad problem this year across the Auckland isthmus.
Tuna are sensitive to low dissolved oxygen levels and ducks can succumb to botulism. It is also known that enrichment of streams with phosphorous from farm pasture runoff causes fish death (see Phosphorous in water). The latest water measurements done by STEPS showed very low dissolved oxygen and high levels of phosphorus in the creek. Eels and fish need oxygen in the water, and reported sightings of eels in Meola creek have reduced in recent years.
Actions we can take include:
Streamside planting  shades the water and makes it cooler and better for wildlife. You can help STEPS  plant and maintain our wetland and creek banks by contacting us on this site
Don't feed bread to ducks  – you may be feeding rats or helping botulism disease to spread among the ducks (see Ducks & botulism in Auckland and  Duck feed)
Immediately report sick or dead wildlife in streams to Auckland Council  09 377 3107
Use water sensitive design  practices and materials around your house, instead of concreting which increases flooding and reduces the area through which water can filter through to the underground Meola aquifer
Please reply or leave a comment to this post with your thoughts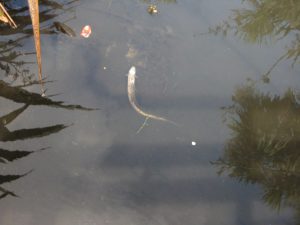 Dead eel February 2017