Liz September 15th, 2019
STEPS will take you on a journey through the catchment of the Meola Waitītiko. The creek has a varied history – wetlands have changes to wasteland and back again, sections have been derelict and are now prized, and some parts are still lost.
We will start from the summit of Ōwairaka / Mount Albert and end at Meola Reef Te Tokaroa, where the creek meets the Waitematā Harbour. Along the way, we will visit reserves, rock forest, bush, roads and walkways, always with the stream nearby.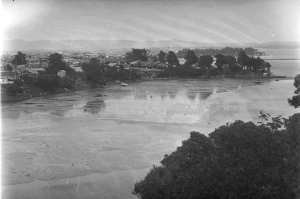 Walk 1: Sunday 20 October. Meet at Mt Albert Owairaka Summit Trig Station 0930.
Walk 2: Sunday 27 October. Meet at Western Springs Garden Community Hall 0930.
We welcome families and people with an interest in the history and state of the largest catchment on the Auckland isthmus. See more details at  Waititiko/Meola Creek Mountain to Sea Walk