Archive for August, 2018
Andrew Mackintosh August 22nd, 2018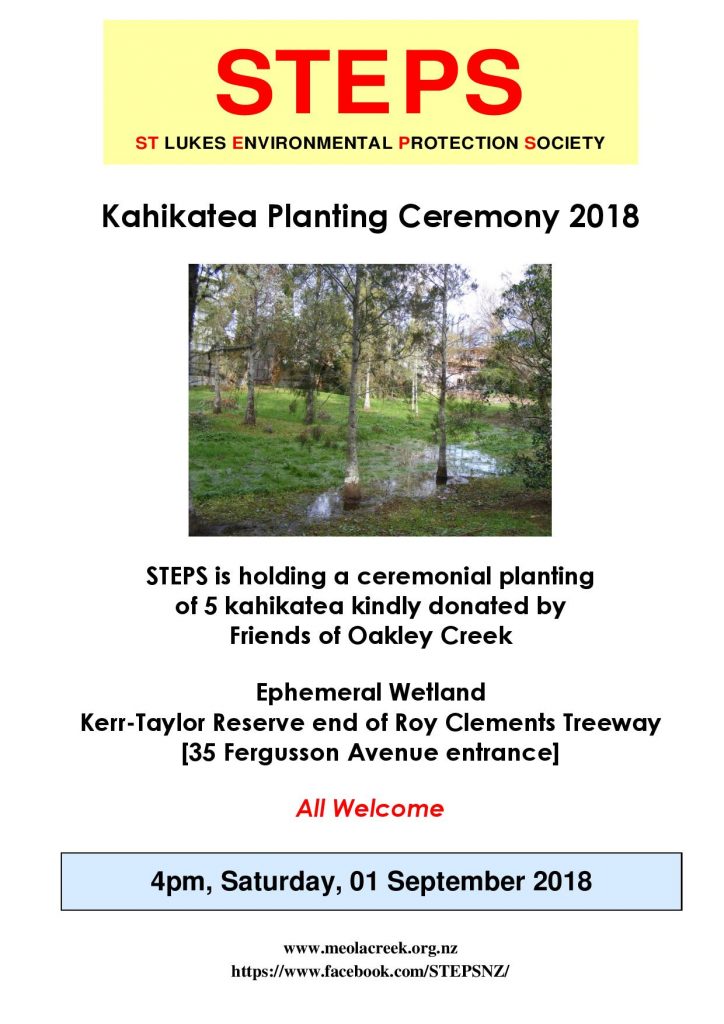 Liz August 21st, 2018
Western Springs Lakeside Reserve is a taonga, and was identified as top priority #1 restoration reserve in Waitemata Local Board for flora and fauna. Auckland Unitary plan says it the lava rock is an outstanding natural feature, and the entire area is a significant ecological area (SEA) across both land and water. It has magnificent surface lava flows, maturing rock forest, springs and a polluted lake with a waterfowl problem. We expect it to have protection.
We encourage members to make a submission on this key part of Auckland's lava flow and water heritage. The proposed development plan is now available for consultation until  27 Aug at have-your-say western-springs-lakeside
The draft plan would clean the lake up and make it healthy, feed eels and birds, and remove some large pines. There would be new paths (apparently across the lava flows), updated playground and events areas, addition of deciduous exotic trees especially cherries, to show seasonal change and enhance the Japanese garden. All this in an SEA protected area which includes sensitive rock forest.
We recommend from an ecological perspective: enhance and enrich rock forest, and improve weed and pest management in this forest.  In addition focus is needed by AC on soakage area and aquifer water quality.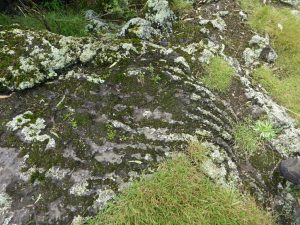 pahoehoe lava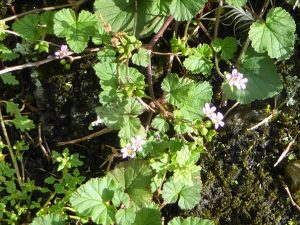 pelargonium inodorum
STEPS presented to the Waitemata Local board at the 21 August business meeting  – link to slides here.
Liz August 10th, 2018
Meola Creek is one of the areas in the Auckland isthmus which has remnants of puriri forest on lava flow.  Auckland Council defines rock forest as critically endangered – see Auckland ecosystem types. Overall only a few hectares remain, mostly near Maungawhau, especially at Withiel Thomas Reserve.
Auckland's lava rock forest contains hardy broadleaved tree species such as puriri, pohutukawa, karaka, titoki, kohekohe and mangaeo, while podocarp species such as rimu and kahikatea are typically absent. Kawakawa and whau are common. Both these distinctive smaller trees are endemic to NZ and have stunning seed capsules. All these trees provide much needed shade for life in the spring-fed creek waters.
Here puriri flowers are on the left and seeds, flours and leaves on right.  Many photos of all these plants can be found on Plant Conservation Network site.
The longest lava flow in the Auckland Volcanic field originated from Titikopuke (Mt St John) and reached the sea at Te Tokaroa (Meola Reef). Its edge defines the course of Meola Creek. The forest that grew on the Auckland lava flows has always been one of New Zealand's most locally confined landscape types, and the growth of Auckland city has almost completely destroyed it. A story of heroic large scale forest restoration can be found here. Passionate volunteers have spent 20 years on Maungawhau clearing weeds such as tradescantia to allow natural regeneration of native plants.
Ecological restoration of lava flow forest continues in the Roy Clements Treeway by removing exotics, weeds and replanting with appropriate species. Once established, most plants will self-seed and the rock forest can be sustained.
Watercare provided our first kohekohe in 2017 and it is thriving. STEPS is also working with AELB and Auckland Council organisations to restore more rock forest remnants. Landscape scale weed control of privet and asparagus weed will be needed before planting can take place. If you need more information or would like to be involved please contact STEPS on this website or by Facebook @STEPSNZ
Here whau is on left and kawakawa on right, Roy Clements Treeway August 2018.