Liz December 27th, 2017
A study conducted for Auckland City's integrated catchment study looked at two large aquifers on the isthmus, comparing current with "maximum probable 2050 land use" in Meola and Onehunga. This picture shows the  "paleo ridges" and "paleo valleys" of pre-volcanic Waitemata sandstone, along which the groundwater flows. It seems Meola Creek and its former tributaries closely follow the valleys of the old landscape.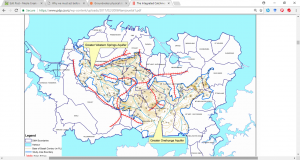 The study concluded that although spare capacity existed in the aquifers to accommodate additional stormwater disposal there was a major unresolved issue is to find practical ways to capture and inject large volumes of stormwater generated by short, high intensity storms.  It noted that additional flooding would occur in high rainfall years.   See ICS Groundwater Behaviour and Assessment
This poses a few questions such as:
what is the significance of 'spare capacity' in the aquifer?  Does it mean that groundwater supplies have been reduced?
what methods would Auckland Council (AC) grant itself consents for, in order to reduce flooding and recharge the aquifer?
how would AC guarantee no reduction of groundwater quality as it tries to deal with further urban development and intensification?
what stormwater treatment methods can AC show us now as functional examples?