Liz April 28th, 2021
Kia ora tātou,
We have some plants on order for Roy Clements Treeway from Council. Thanks Huw and AELB.
Likely planting dates: 29th – 30th May
Upcoming :
Possible planting day in Norgrove in July – Watercare decision.
Under Way
Weekly weeding sessions back at Kanuka St forest on Tuesday mornings– thanks Sel, Damien and Mary
Weekly sessions at MAGS Thursday pm – thanks Sel and Richard
STEPS collected 3 Waitītiko DNA samples for nation wide water quality survey – thanks Freddie, Sel and Wendy.
June got online payments set up since cheques going away – thanks June
January application for CCF admin funding should be announced this month – thanks Trev
Good links with Kura Kaupapa new groundspeople re moth plant and weeds… regular weeding under way. Thanks Dianne, Sel, Suzy & Graeme
Plant and Food – moth plant / woolly nightshade fruiting again and ready to blow down the catchment.  TBD with volunteers this month. Thanks Sel, Shannon, Alistair and Stephen.
Auckland Council Healthy Waters & Watercare have eradicated weeds on their land at Ahurangi – thanks Theresa and Shalini.
STEPS Online campaign – TBD thanks Dan
2020-21  AGM – possibly August since so late last year because of Covid…
If you can help with any of these please let us know; or if you have questions. Please contact us via this site.
What other new initiatives would you like to participate in? Please let us know.
Finally this frog was sitting up a tree near the MAGS tributary of Waitītiko a few days ago. Apparently it is an Australian green tree frog… Litoria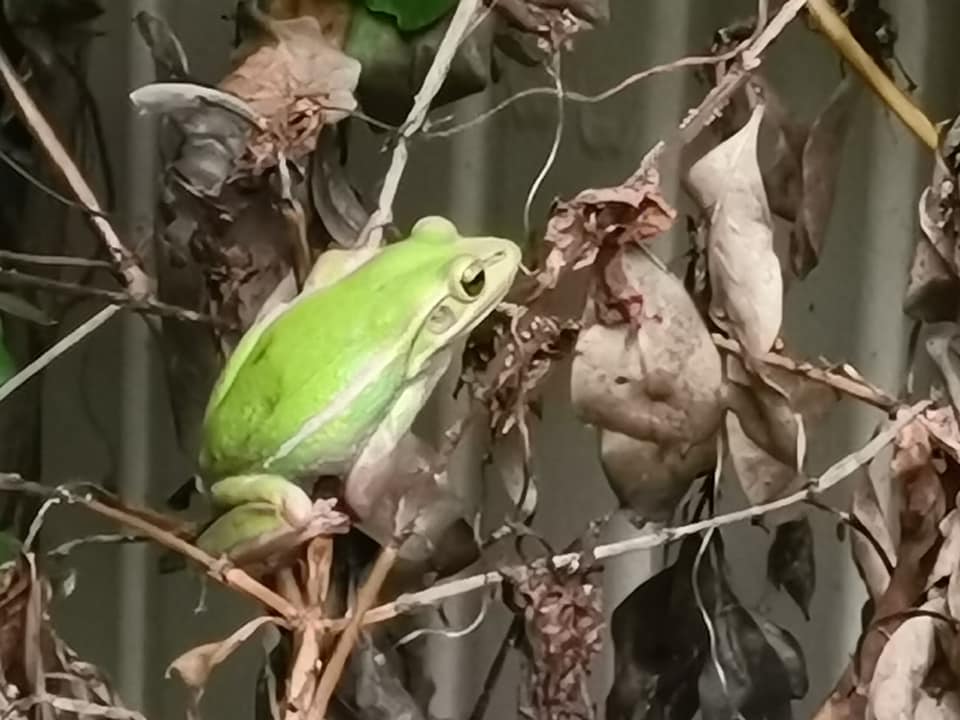 Ngā mihi nui,
Liz
Elizabeth Walker
https://www.facebook.com/STEPSNZ/