Liz June 15th, 2017
A new kohekohe was planted at Roy Clements Treeway today, on the lawn near Alberton Avenue. The tree was provided by Watercare Services to replace a tree removed from the Treeway to allow geotechnical drilling for the Central Interceptor.
Kohekohe is a distinctive species which grows in the warmer parts of NZ.  Tiritiri Matangi usually has many kohekohe trees in flower in April/ May.  We are hoping it will grow to provide food for birds such as kereru.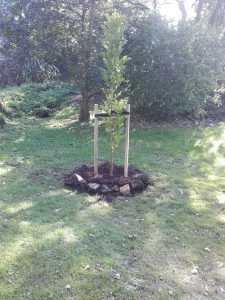 Thanks to Bojan, Stephen, David and the Watercare team for the consultation and care taken. We trust it will grow well and provide enjoyment for many people.