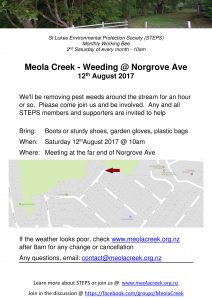 We will be doing some weed control, and also walking through the site with Sel Arbuckle Auckland rock forest legend (see 
https://www.nzgeo.com/stories/eden-in-auckland/) to look at main vegetation and identify weeds. We will bring maps to see where Central interceptor shafts might be built too.
Please wear gardening gloves, tramping boots/ strong shoes and a small folding saw could be useful if you have one. See you there!