Liz August 21st, 2018
Western Springs Lakeside Reserve is a taonga, and was identified as top priority #1 restoration reserve in Waitemata Local Board for flora and fauna. Auckland Unitary plan says it the lava rock is an outstanding natural feature, and the entire area is a significant ecological area (SEA) across both land and water. It has magnificent surface lava flows, maturing rock forest, springs and a polluted lake with a waterfowl problem. We expect it to have protection.
We encourage members to make a submission on this key part of Auckland's lava flow and water heritage. The proposed development plan is now available for consultation until  27 Aug at have-your-say western-springs-lakeside
The draft plan would clean the lake up and make it healthy, feed eels and birds, and remove some large pines. There would be new paths (apparently across the lava flows), updated playground and events areas, addition of deciduous exotic trees especially cherries, to show seasonal change and enhance the Japanese garden. All this in an SEA protected area which includes sensitive rock forest.
We recommend from an ecological perspective: enhance and enrich rock forest, and improve weed and pest management in this forest.  In addition focus is needed by AC on soakage area and aquifer water quality.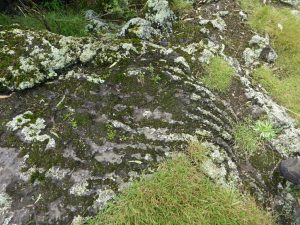 pahoehoe lava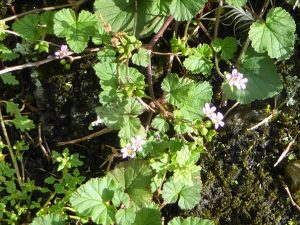 pelargonium inodorum
STEPS presented to the Waitemata Local board at the 21 August business meeting  – link to slides here.