Liz May 2nd, 2019
Join STEPS improving part of the Roy Clements Treeway!
Last year, we planted the ephemeral wetland at the Treeway's southern end. In 2019 we will fill it out and do some releasing.
Come along, with family and friends, for a couple of hours of planting and help improve the biodiversity of the area with the support of our Local Board.
Saturday 18th May 2019 at 10.00am
@ Kerr Taylor Park (Fergusson Reserve) end of Roy Clements Treeway (southern end)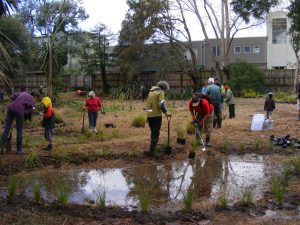 Please bring a sunhat and sunblock, a raincoat, water bottle and gardening gloves.  Bring a spade if you have one – we have some spares.
If the weather looks poor, check www.meolacreek.org.nz after 8am.
Any questions, email: contact@meolacreek.org.nz
Learn more about STEPS or join us @  www.meolacreek.org.nz
Like or follow us @ https://facebook.com/STEPSNZ
Flyer: STEPS Planting May 2019